Grading is mainly used for garments as they have many different sizes, body shapes, and styles. Grading is the difference in measurement between your sample size and each size of your style.
So for example, if your medium size length is 20 inches, and the large is 21 inches, therefore your grading will be +1. You will have to provide grading for each "Point Of Measurement" and all sizes.
Why you need Grading?
Grading is used by pattern makers to make patterns larger and smaller in proportion to the Sample Size. Therefore, they create set rules. So by using above example, the grading rule will be 1. Therefore size S will be 19" (-1), medium (or sample size) as 20" (0), and large will be 21" (+1). Now, keep in mind, that this is a very basic example. The grading rule will change based on many factors such as style, fabrics, and etc. It's not difficult to learn once you start to use it. It's one of those things that you get better with experience.
How to activate Grading?
NOTE: Grading function is only available on CONNECT & SCALE-UP plans.
Adding Grading rules on Techpacker is so easy that not only the technical designers but with a little know-how, anyone can input grading rules to their sizes. However, not everyone that uses Techpacker needs grading, which is why it's optional. Below is are step-by-step instructions on how to activate Grading and how to start using it.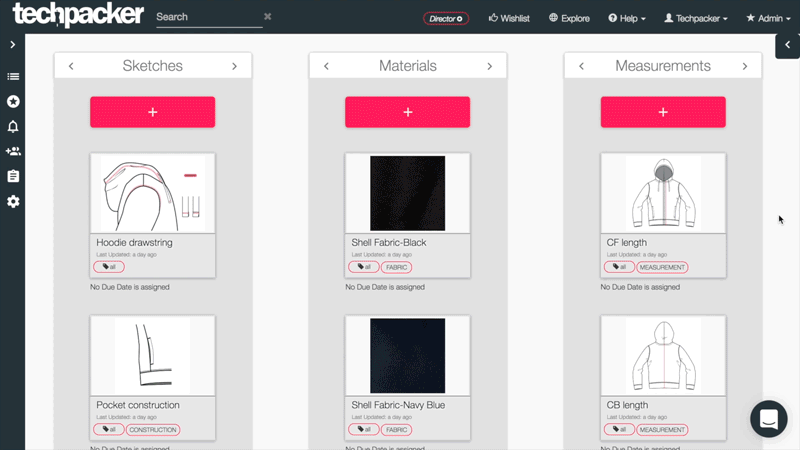 Step 1: Activate your Grading
To maintain Techpacker's simple, core experience we decided to keep Grading as an Add-on feature that you can enable and disable to make Techpacker provide extra functionality to your needs.
To Activate Grading, slide out the add-ons menu on the far right of your screen by clicking on the Arrow (see below image).
By default, you'll see the Grading as Inactive. Simply click on Inactive and it will turn into Activated. Once activated, it will show a confirmation that "grading is now activated".
Step 2: Where is Grading?
To use grading,
Go to any of your techpacks that you have created.

From the top menu, click on List View (see image below)
Make sure, that you are on measurement tab (as by default, the measurement tab will be selected).
If your Grading is successfully activated, you will notice a Toggle button on Size Mode. (see image below).
Step 3: How to set up a POM chart?
Before you start using Grading, make sure you have -
a. add your complete size range (e.g. S, M, L, etc.) by creating a "New Column:...."
b. visibly show all desired sizes by checking the box next to the size to show that size in the table  (e.g. Size XL is unchecked and not visible in the chart)
c. selected a sample size (chart below shows size: M as sample size. Sample size is highlighted in pink)
d. lastly, select size columns for grading by hovering over each size and clicking the "size" icon to inactivate that size for grading (e.g. Size L has "size" crossed out, which unhighlighted that size in the chart)
All sizes are shown in the chart and highlighted in pink when activated.
Step 4: How to use Grading?
As explained earlier, if your Grading is successfully activated, you will notice a Toggle button on Size Mode (see image below). Toggle on Size Mode to Grading Mode to active grading chart to set the rule on all non-sample sizes.
Keep in mind that if you are working in inches, then add your measurements in fractions as 12 1/2 however, if you are working in cm, then add in decimals as 12.5. Once you are satisfied with your sample sizes, it's time to input the Grade Rule. To do that, simply click on the Toggle above to change to Grading Mode. This will enable you to input grade rules on other sizes and will disable the "Sample Size".
Pssssst... want to learn a cool trick:
Enter any grade rule and press the tab to see the magic. Did you see that...It will automatically calculate the grade rule of all the other sizes. If you want to customize it, feel free to change it yourself.
Techpacker believes in making things smarter and faster. So if there's any other functionality, that you think we should add to make Grading better, then feel free to let us know in comments below.
Additional reading list:
Note:
Grading will only work on sizes and you have to make sure a sample size is selected.
The tol(+) and tol(-) is excluded from Grading.
If you are working in inches, then add your measurements in fractions like 12 1/2 however if you are working in cm, then add in decimals such as 12.5
Grading is currently in Alpha and may not function properly. Make sure to keep a copy of all your data as with bugs you may loose all your data. Though until we fully launch, we'll be regularly testing, updating and refining as we move along.