In this article you'll see  -
---
1. How stages work

Stages let you and your team track the progress of your Techpacks. From design to approvals, from product development, all the way to production, your Techpacks can be organized by stage and viewed at a glance.  
You can create custom stages, filter your Techpacks by stage, identify bottlenecks quickly and keep your entire team on track.
---
2. How to assign a stage to a Techpack
There are two ways to assign stage to a techpack: 
2a. From your techpack dashboard 
Step 1: Click on this grey dot located on the bottom-right corner of your chosen Techpack.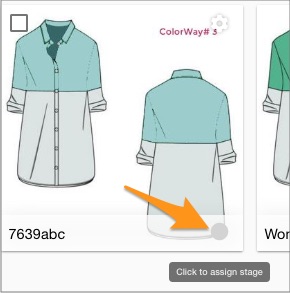 Or if you are viewing your techpacks in list-view the grey dot is will be located here -

Step 2: Select a Stage. Done.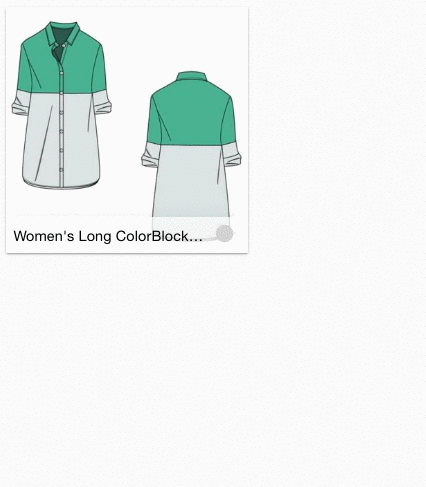 Notice the colored circle 

 . It now indicates your Techpack's stage.
2b. From inside your techpack board
Step 1: Click on the grey dot located in the top-menu of your techpack board.

Step 2: Select a Stage. Done.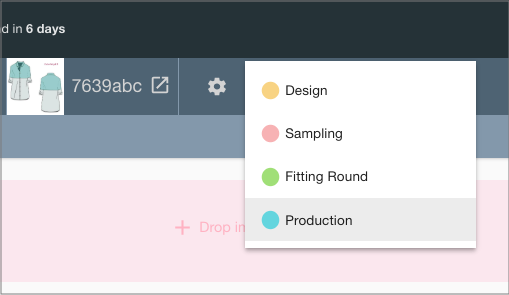 ---
3. How to filter Techpacks by stage
Step 1: Go on your Techpack Dashboard. Your stages are lined up on the bar at the bottom.

Step 2: Click on your desired stage. Only the techpack(s) assigned to that stage will be filtered and displayed on your Techpack Dashboard.
Click on the stage again to disable the filter.

---
4. How to manage and add stages
Step 1: On the Stages bar at the bottom of your Techpack Dashboard, click on.

In the stages settings, you can:

 Rearrange your stages' order by dragging.

 Rename your stages

 Delete stages

 Add custom stages