In this article you will learn:

---
1. What are Document Settings?
This document settings panel gives you the option to customize your Techpack PDF layout and choose which sections or design detail to include or hide. To view your document settings, please follow the steps below.
Step 1: Click on your Techpack's Doc View page as shown in the image below.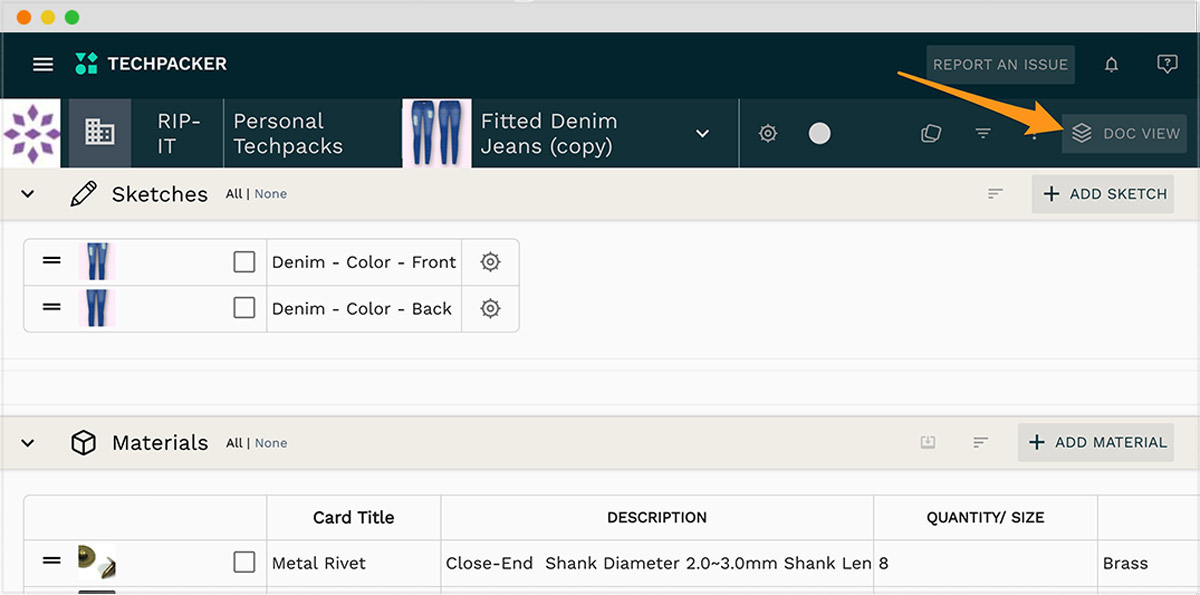 Step 2: When inside Techpack's Doc View page, you will see document settings with the drop-down options to Include comments, include files, and High-resolution images.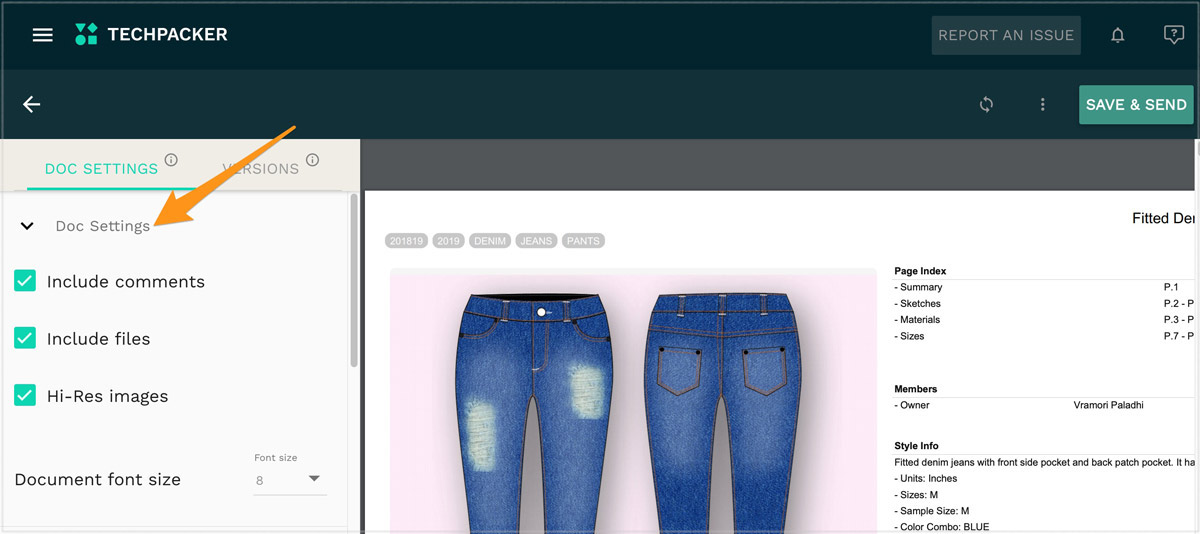 ---
2. How to add/remove comments in your PDF
Check this

Include comments option in your document settings to include all your techpack comments on a separate page in your PDF.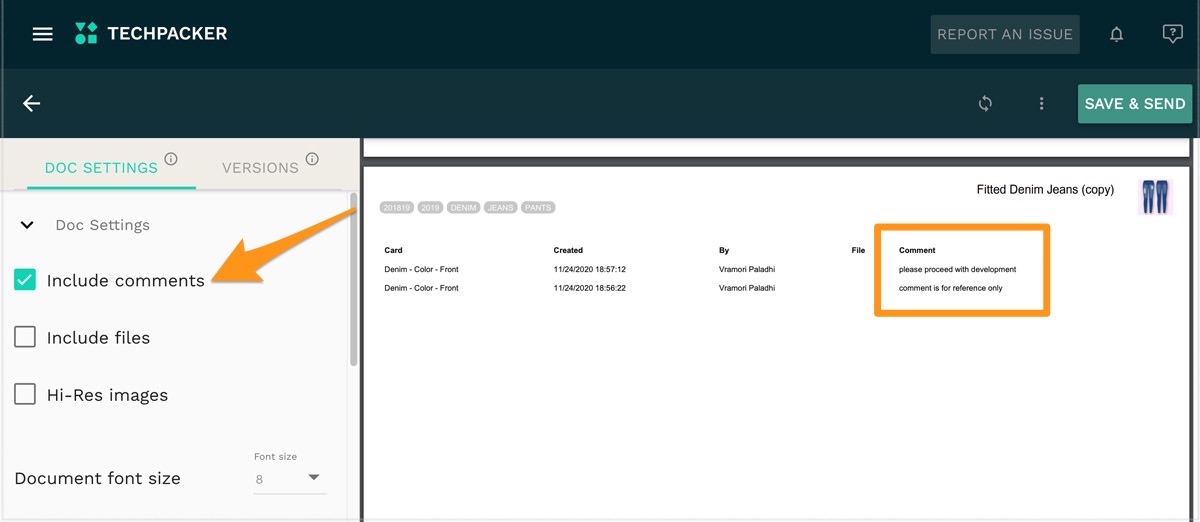 ---
3. How to attach files in your PDF?
You can also attach all your card files like excel sheets, reference images, and vector images in form of Ai and PDF files. A downloadable link (as shown below) will be added on a separate page of your tech pack.
To do this simply check

to include files option from your Doc setting as shown below: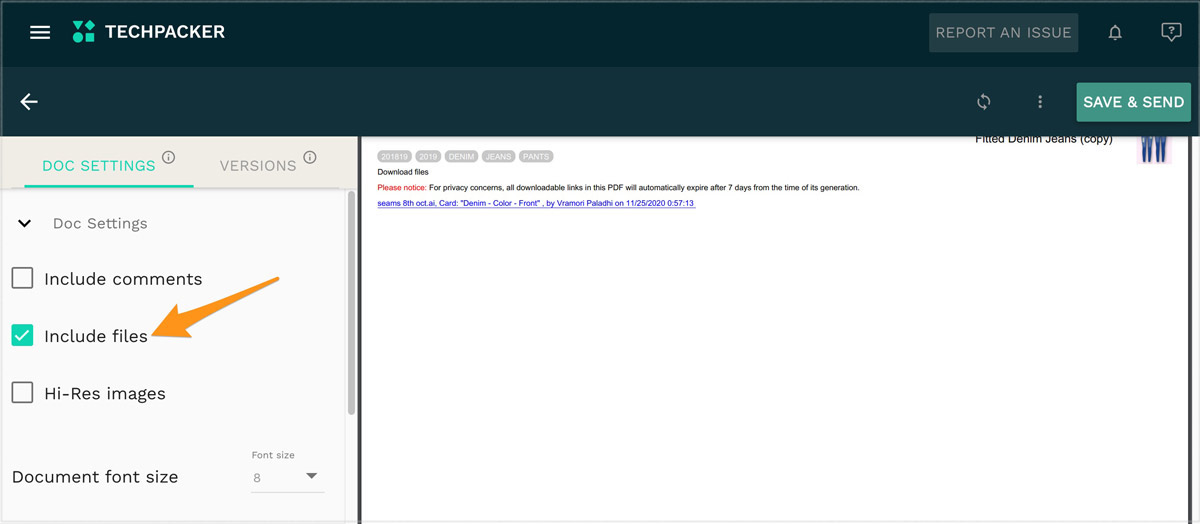 NOTE:
As a security measure to avoid misuse of your confidential files, all downloadable links added in your PDF automatically expire after 7-days of generating it. These files, however, are always saved in your techpack board and can be reincluded in a new PDF at any time.
---
4. How to print high-resolution images in your PDF
At any time you can turn your PDF images from standard to high-resolution. Simply check this

High-Res images option and Techpacker will render a new PDF with crisp quality images.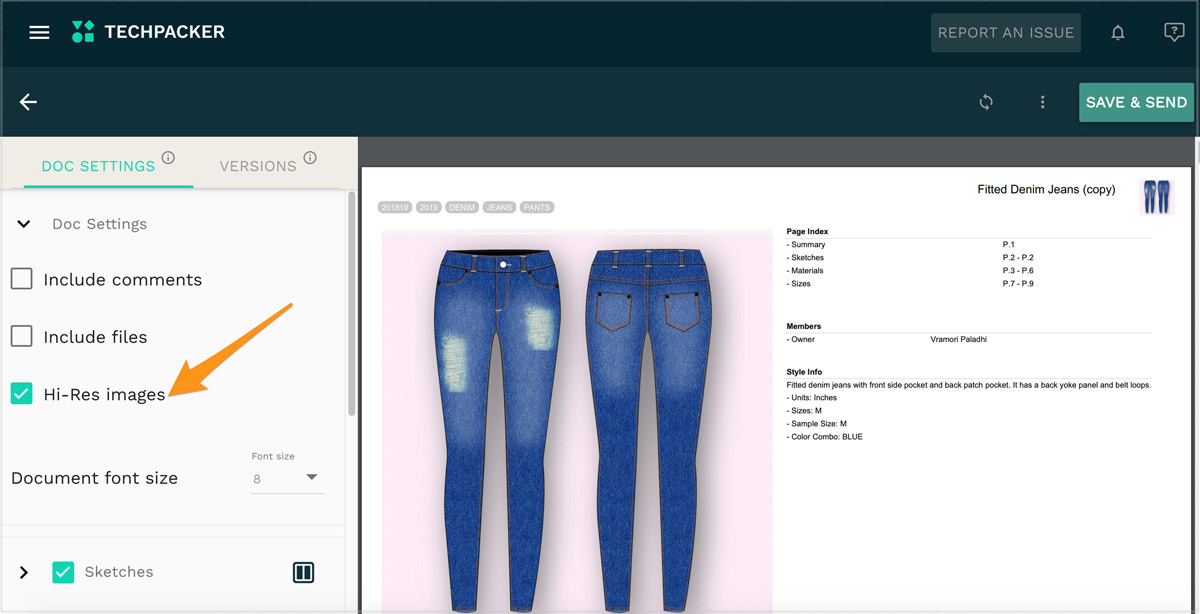 NOTE:
To keep your PDF file size lighter, all your tech pack images are set to standard resolution by default. Switching to Hi-Res images may increase your PDF file size.

---
5. How to change the document font size
To fit more data in your techpack PDF, you can re-size the font at any time. By default, the font size is set at 8px. You can change the font size from between 1px to 10.5px.
After selecting your preferred font-size, you will have a fresh rendered document with the new selected sized text.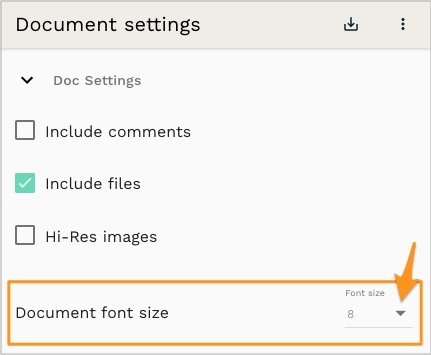 ---
6. How to include/exclude cards in your PDF
Here you have a list of all cards in each section of your techpack. You can choose to include or exclude any of them in your document.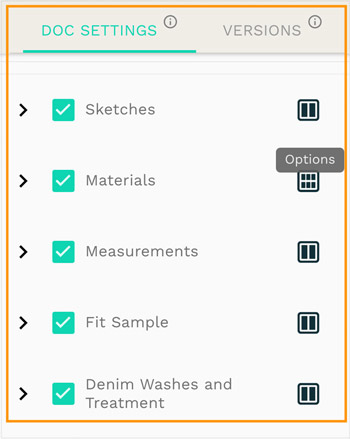 Use these checkbox

options to select or exclude any card or a complete section from your document.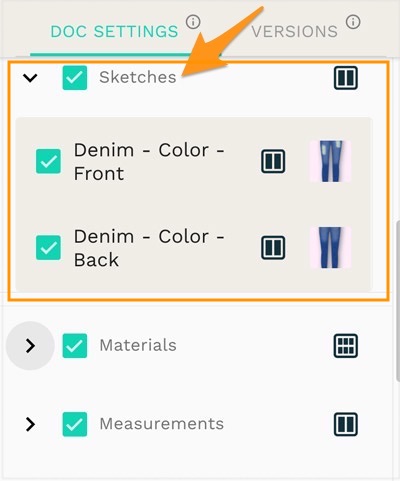 NOTE:
Even if you exclude a measurement or a material card, it will still appear in the

Table section

below in your Techpack PDF.
---
7. How to use the display options in PDF
Display settings are sub-divided into:

The number of cards displayed per page:
You can choose to display 1, 2, 2 (best fit view) or 6 cards per page for each section. To do that simply hover over cards and chose one of these 4 options as shown below.
By default 2 cards per page as selected for all sections.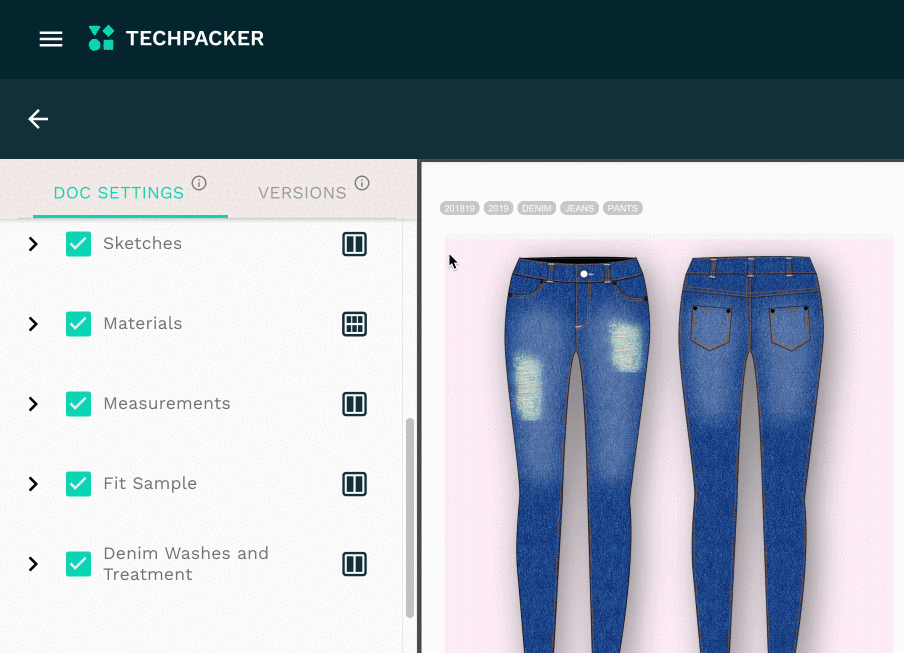 Best fit display option:
In case a card has a lot of Information associated with it, with a 2 card per page view, that information can overflow making it difficult for your manufacturers to understand the requirements.

This is where 2 Cards per page layout with the best-fit setting comes in handy. By using this option, Techpacker will re-adjust your entire card information so it fits properly on the page and looks organized for your factories to refer to as shown in the image below.

Include table:
Click on the Measurements section and select the Include table option to include or exclude any section tables from your PDF.

NOTE:
"Include table" option is valid for all sections except sketches.
Move table before images:
Use this option to move a section table before their corresponding cards page. This setting is helpful in organizing your materials pages.

NOTE:
This option is visible only when "include table" is selected.


Include thumbnail on the top:
Select "include thumbnail on the top" to show the images right above the table. This feature helps you with graphic point of measurement thumbnails with the table helping the factory to understand key measurements better.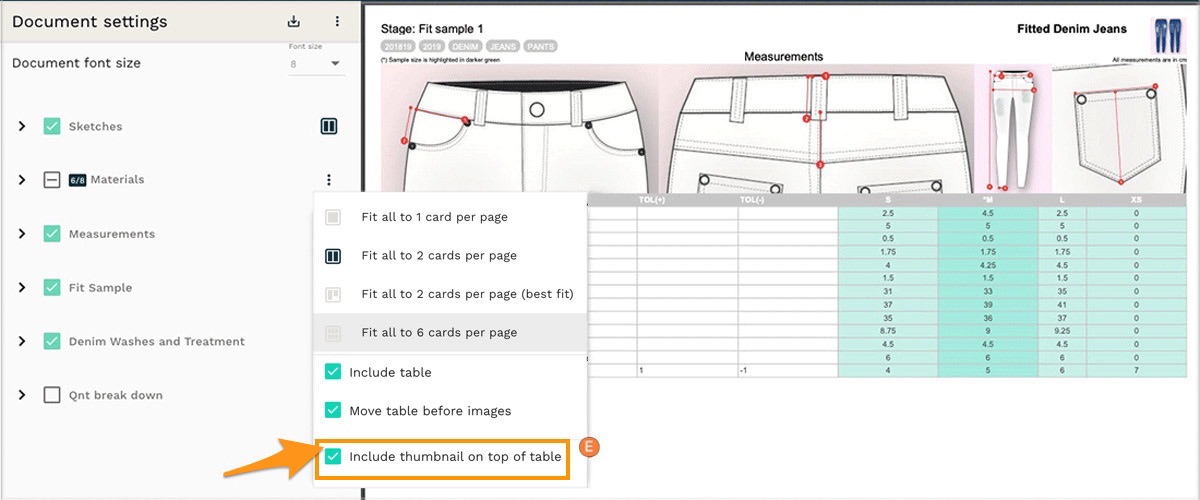 NOTE:
This option is visible only when "include table" is selected and there are
images in cards.
---
8. How to set PDF rendering prefrence
You can choose to render your doc view only after you have finalized all the settings in your pdf. Follow these steps:
Step 1: Click on this

option icon located on the right upper corner
Step 2: From the drop-down option select manual refresh option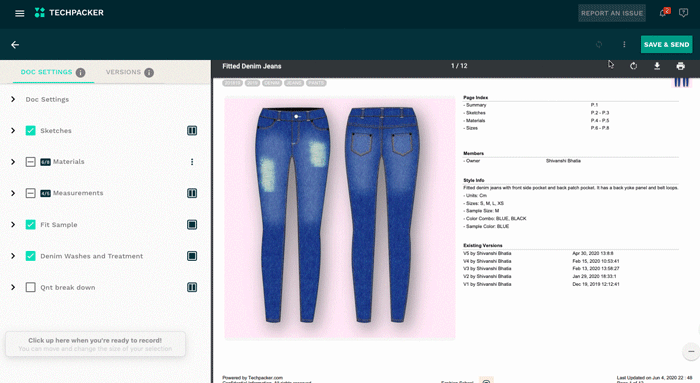 ---